Udala Weaving Cluster, Mayurbhanj, Odisha, a SFURTI Cluster promoting weaving sector at local, national as well as international arena, where KIIT – TBI is the Technical Agency has recently celebrated National Handloom Day on 7th of August 2022 organized by NABARD at Esplanade One Mall, Bhubaneswar.
The occasion was graced by the Hon'ble Minister of Handlooms, Textiles & Handicrafts, Smt. Rita Sahu; Development Commissioner-cum-Additional Chief Secretary, P K Jena; Principal Secretary – Finance Department, Vishal Kumar Dev, CGM, NABARD, C. Udaybhaskar; and Ms. Bindu Vinod, representatives of Mauna Dhwani Foundation, the Implementing Agency of the SFURTI cluster.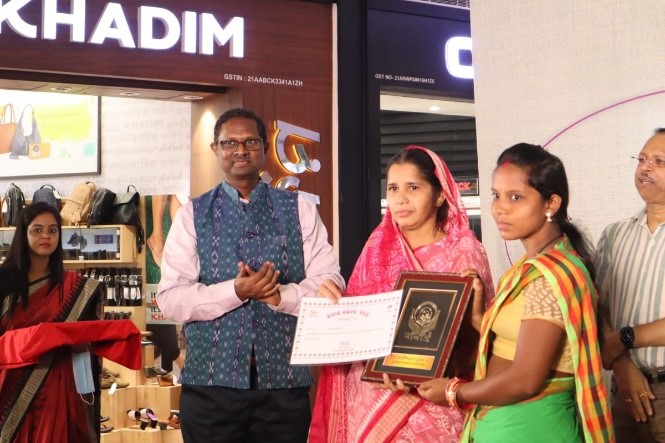 On this occasion, two progressive woman weavers – Sita Murmu and Sasmita Patra of the cluster were honored at state level for their remarkable contribution to the development of the sector in the district of Mayurbhanj. The cluster demonstrated and displayed the various products weaved by the cluster for exhibition as well as sale.