Mr. J.A.C.S. Rao (IFS), Retd. and CEO, Chattisgarh Tribal Local Health Traditions and Medicinal Plant Board, Ms. Rinu Chhabra and Ms. Seema Gupta, representatives of two aspiring implementing agencies, visited Udala Palmarosa Cluster on 29th June 2023 accompanied by Mr. Manoranjan Moharana, Project Associate – Cluster Network of KIIT-TBI.
Udala Palmarosa Cluster at Udala, Mayurbhanj is one of the three prominent aromatic product clusters flourishing under the technical guidance of KIIT-TBI (KIIT- Technology Business Incubator). Declared a fully operational one, Udala Palmarosa Cluster has diversified to the production of a range of value-added products from palmarosa and lemongrass.
The prime motto of the cluster visit was to gain a first-hand impression of how such clusters take gradual shape to become a full-scale rural manufacturing setup and add to the social-economic and livelihood enhancement of thousands of beneficiaries associated with the cluster.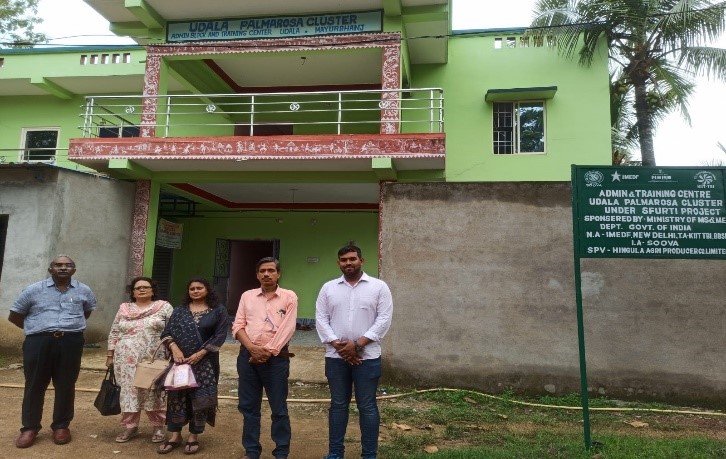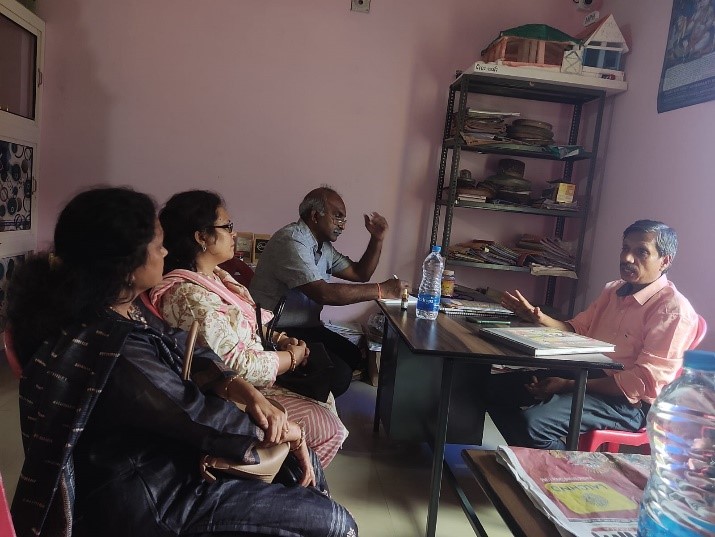 Mr. Ranjan Mishra, representative of SOOVA (Social Organization on Various Aspect), the implementing agency of the cluster, warmly welcomed the dignitaries and sensitized them about the cluster concept. The points of discussion were on the mobilization of beneficiaries at the ground level, SPV formation, channelization of funds for the construction of the Common Facility Centre (CFC), procurement of the machinery, streamlining the production processes, and establishing market linkages for the cluster products.
The dignitaries visited the production area and the distillation unit and witnessed the extraction processes of palmarosa essential oil, lemongrass oil, and herbal tea made out of lemongrass, ginger, and tulsi. The cluster products are sold under the brand name of "ORAK". Later, the team visited the lemongrass and palmarosa plantations, where they observed the cultivation and harvesting techniques and also interacted with a few farmers.
This guided visit to Udala Palmarosa Cluster is poised to further boost the team's ambition to carry further the SFURTI saga in the state of Chhattisgarh in the area of aromatic products development under SFURTI and with the technical handholding of KIIT-TBI as the Technical Agency.