Tuber crop played an important role in diet and the second most energy provider crops after cereals. It offers economically viable, low-cost alternatives as well as resilience under climate change. In this connection, Dhenkanal Tuber Crop Processing Cluster is established under SFURTI scheme of MoMSME which promotes traditional industries. This cluster is escalated with the support and guidance of KIIT-TBI as Technical Agency, and ground level execution of Kalyanji Seva Trust as Implementing Agency.
Kalyanji Seva Trust had organized an soft intervention (SI) programme titled "On-Farm Training on best advance practices of Sweet potato Cultivation Method" for cluster farmers at Parbatia, Sankarpur, Dhenkanal on 11th February 2023 with 25 farmers in attendance. The main topics of the training were: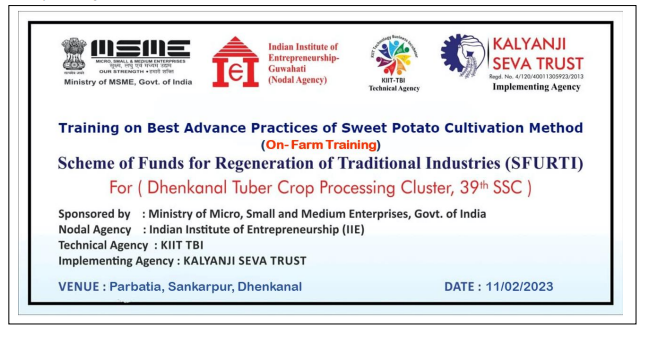 Selection of Soil and Climatic Conditions
Preparation of land & Sowing Technique
Sowing time, Planting Material Selection& Treatment.
Irrigation, Manure and Fertilizer Requirement
Pest and disease management in sweet potato.
Harvest & post-harvest management in sweet potato.
Farmers were chosen for the training programme based on two criteria: being resident of cluster village and farming tuber crop. The day started with a warm welcome from Mr. Gyanaranjan Rout, SPV Member, and was followed by Mr. Sunil Kumar Jena, KIIT-TBI (TA). The programme was scheduled into two sessions with two distinguished teachers.. They were Mr. Bibhuti Bhushan Das, Sr. Agro-techniques Support Officer, RC-CTCRI; who led the farmers to sustainable farming and to achieve socio-economic development by adapting advance Practices and Techniques and Mr. Babuli Sethi, Field Support Officer, RC-CTCRI, who educated the farmers about different plant varieties of sweet potato (tuber crops), their identification, and pest management in tuber crops. The key words of the discussion were ecology, temperature, light, altitude, soils, soil moisture, aeration, variety selection, physiology, harvesting methods, storage, grading and marketing, etc.
The soft intervention programme had a positive impact on cluster farmers by strengthening their skills.