Deomali Millet Cluster is a shining example of progressive agro-processing clusters established under the SFURTI initiative (Scheme of Fund for Regeneration of Traditional Industries) by the Ministry of Micro, Small, and Medium Enterprises (MoMSME). This visionary project took root in 2020, breathing new life into the tribal-rich landscape of the Koraput district in Odisha. Since its inception, the cluster has embarked on a steadfast trajectory of progress, propelled by the unwavering dedication of the Koraput Farmers' Association (the Implementing Agency) and the invaluable technical guidance provided by KIIT-TBI (KIIT-Technology Business Incubator) as the cluster's designated Technical Agency.
On August 8th, a proficient team of experts from SFURTI embarked on a purposeful journey to the Deomali Millet Cluster, igniting a significant milestone in the cluster's progress. Their mission, centered on the meticulous assessment of civil works' advancement in precise accordance with the BOQ (Bill of Quantity) and layout drawings, represents a defining juncture in the cluster's transformative journey. Comprising the team were Debashis Tripathy, distinguished as Sr. Manager Cluster Network; Sunil Kumar Jena, an adept Manager within the Cluster Network domain; and the invaluable Manoranjan Moharana, fulfilling the role of Cluster Network Associate. In a warm and gracious gesture, Mr. Santosh Kumar Khemundu, representative of the Special Purpose Vehicle (SPV) of the cluster and the visionary behind the start-up H2M Dhono Foundation, extended a cordial welcome to all the team members.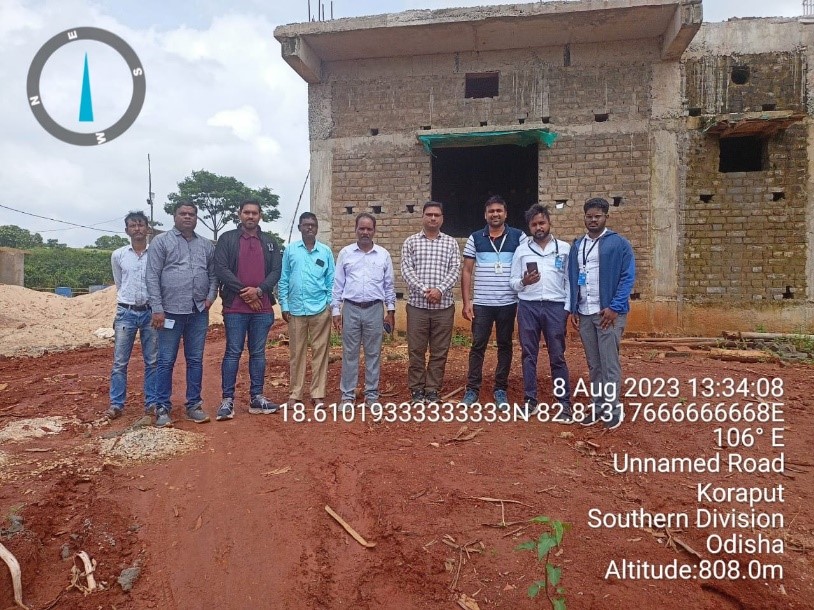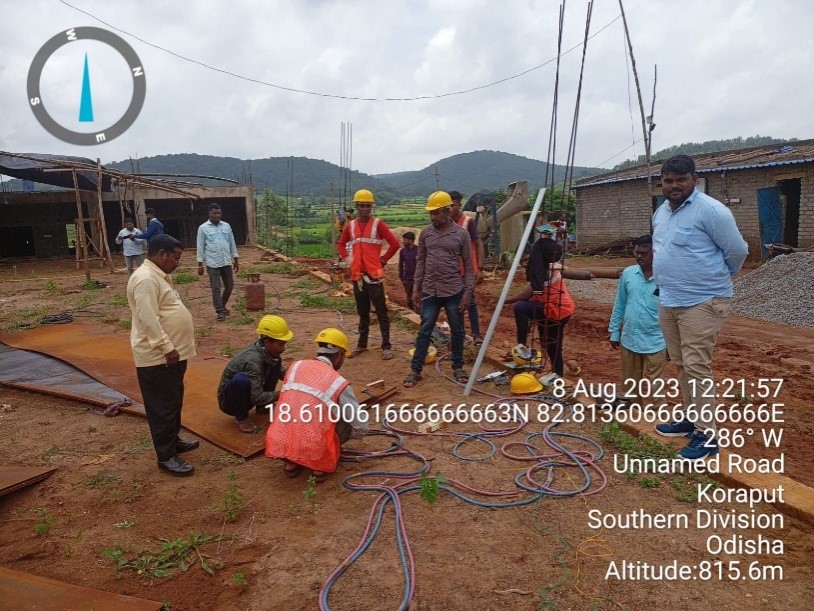 Amid the meticulous onsite assessment of the cluster's civil works status, Anshik Hota, esteemed as Sr. Manager of Cluster Network (KIIT-TBI), contributed his insights via video conferencing, offering valuable observations on the progress of the civil work undertaken. Based on the discerning assessment by this proficient team, it was determined that 50% of the civil work has been successfully completed. Consequently, the concerned stakeholders including the representative of the Implementing Agency (IA), SPV members, and the civil contractor were earnestly urged to expedite the ongoing process.
Additionally, the team engaged in productive discussions with the esteemed local Sarpanch, Shri Madhusudan Tangi, and six dedicated millet farmers. These farmers, fueled by elevated aspirations for the cluster's impact, showcased a strong enthusiasm to actively contribute to its success. Notably, the local Sarpanch is providing valuable support in a passive capacity aiding the cluster's progress by facilitating the mobilization of funds for essential drainage and road infrastructure for the Common Facility Centre (CFC). This financial support is orchestrated through collaboration with the Member of the Legislative Assembly (MLA) representing that constituency.