The Ministry of Skill Development and Entrepreneurship (MSDE), Government of India, in collaboration with the Indian Institute of Entrepreneurship (IIE), organized the "Manthan – North Eastern Skill & Entrepreneurship Conclave" from September 1st to 3rd, 2023, in Guwahati, Assam. The primary objective of this conclave is to bring together key stakeholders, including ministries, state governments, government agencies, academic institutions, think tanks, financial institutions, corporations, and, most importantly, the beneficiaries.
The event aims to promote ministry schemes and initiatives, raise awareness of regional programs focused on entrepreneurship and skill development, generate actionable insights, identify gaps, showcase best practices, and facilitate coordination in these domains. The chief guest for the event is Rajeev Chandrasekhar, Minister of State for Skill Development & Entrepreneurship, with Dr. Rajkumar Ranjan Singh, Minister of State for Education, as the guest of honor.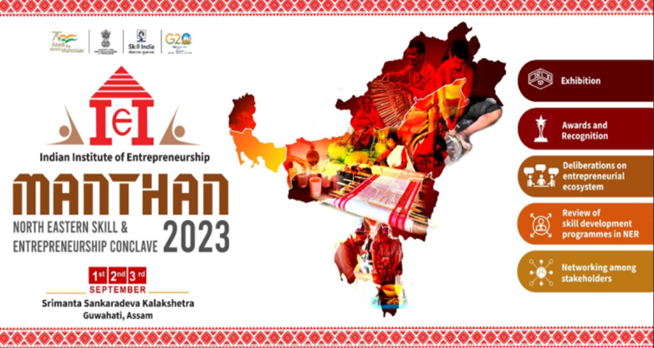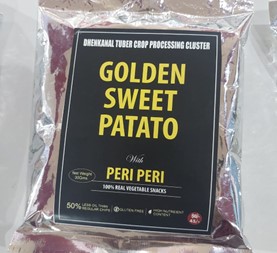 On this occasion, one of the most promising SFURTI clusters promoted by KIIT TBI, Dhenkanal Tuber Crop Processing Cluster participated with the samples of the products the cluster aims to manufacture. KIIT-TBI, the Technical Agency for this cluster, IIE as the Nodal Agency, and Kalyanji Seva Trust as the Implementing Agency, are collaborating to enhance this cluster. To promote the cluster and strengthen its nationwide market connectivity, Mr. Gyanaranjan Rout, CDE, and Mr. Abhijit Patra, SPV member of the Dhenkanal Tuber Crop Processing Cluster, have participated in the Manthan – North Eastern Skill & Entrepreneurship Conclave. Several products from the cluster were on display in the conclave's exhibition.